Tips for buying Stevia
What Stevia products are available?
You can find a variety of Stevia sweeteners in supermarkets. Due to the different types of products, there is no generally valid answer to the question of the right use. Here we give you some helpful tips on what to look for when buying Stevia.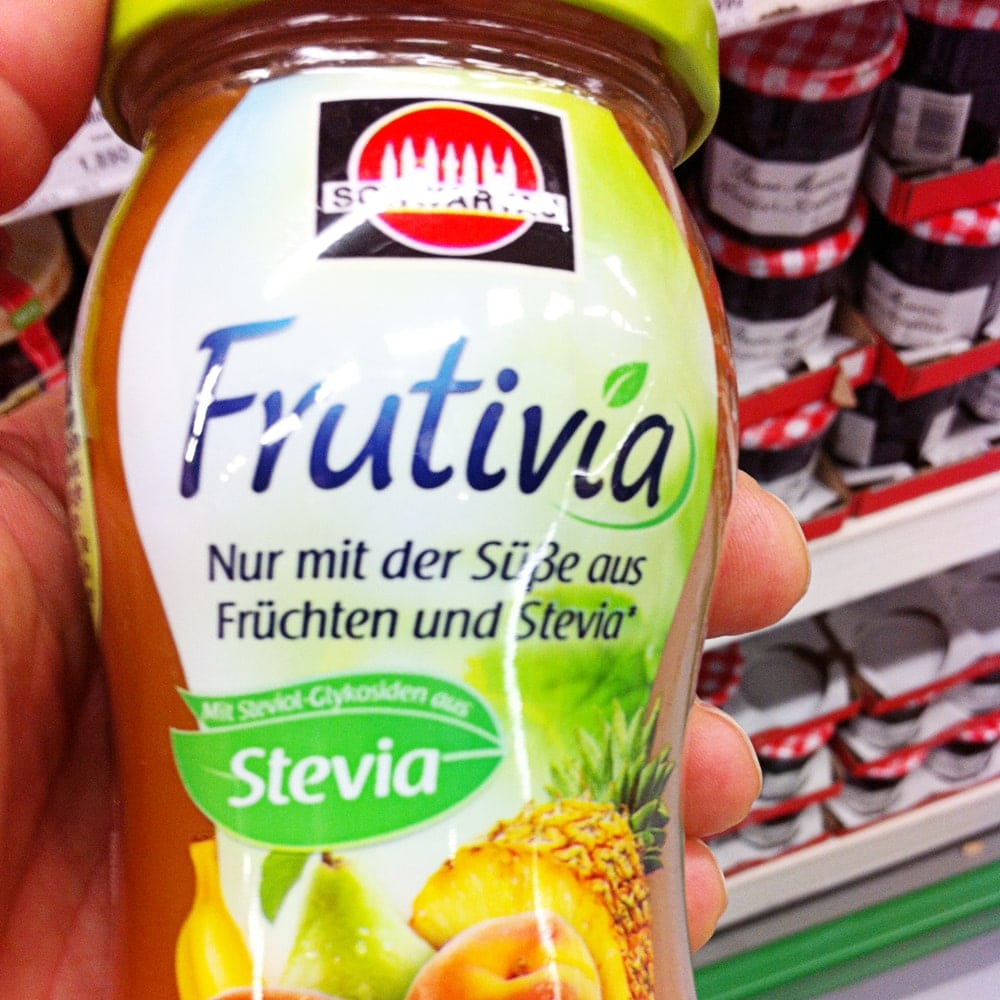 Products with Stevia in the supermarket.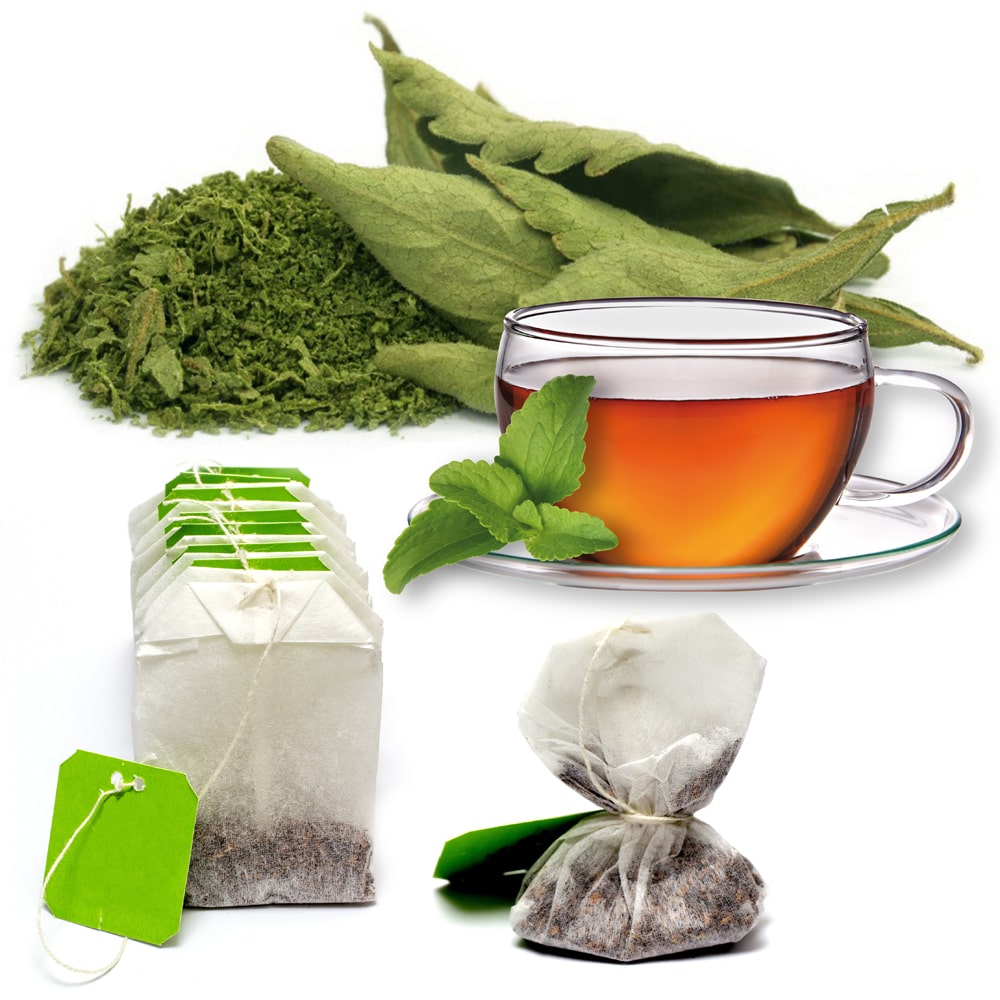 Sweeten tea with Stevia leaves.
By the way, in supermarkets you will also find a variety of foods that contain Stevia as a sweetener. The natural sweetener can make cola, yoghurt, liquorice, jam, chocolate or sweets significantly lower in calories.
Stevia leaves
There are many varieties of Stevia sweeteners. The most natural are dried leaves of the Stevia plant. They are especially good for sweetening tea.
Stevia liquid sweeteners
There are a wide range of liquid Stevia concentrates and Stevia liquid sweeteners. Unfortunately, products that you can buy in supermarkets or drugstores very often contain added fructose, dextrose or even flavourings.
When buying, pay attention to the ingredients. A good Stevia liquid sweetener product should not have the ingredients mentioned above.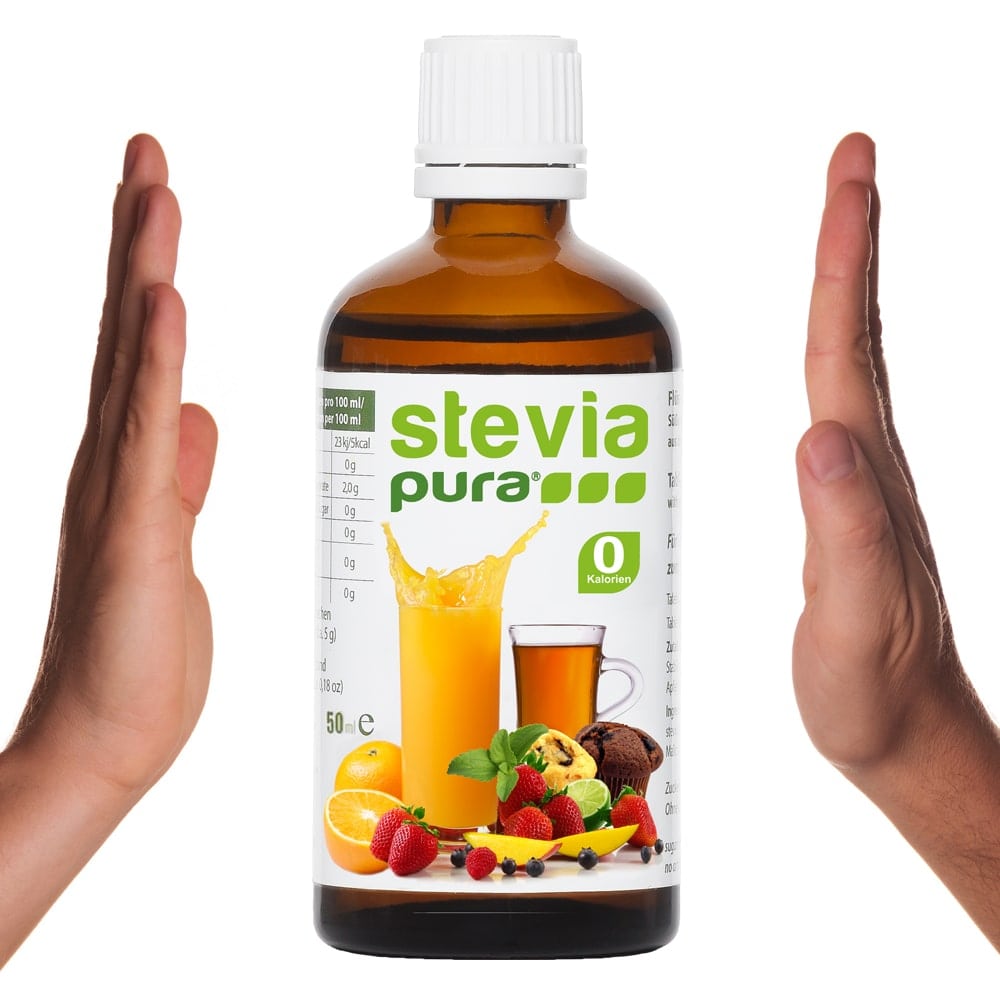 When buying Stevia in the supermarket, pay attention to the ingredients!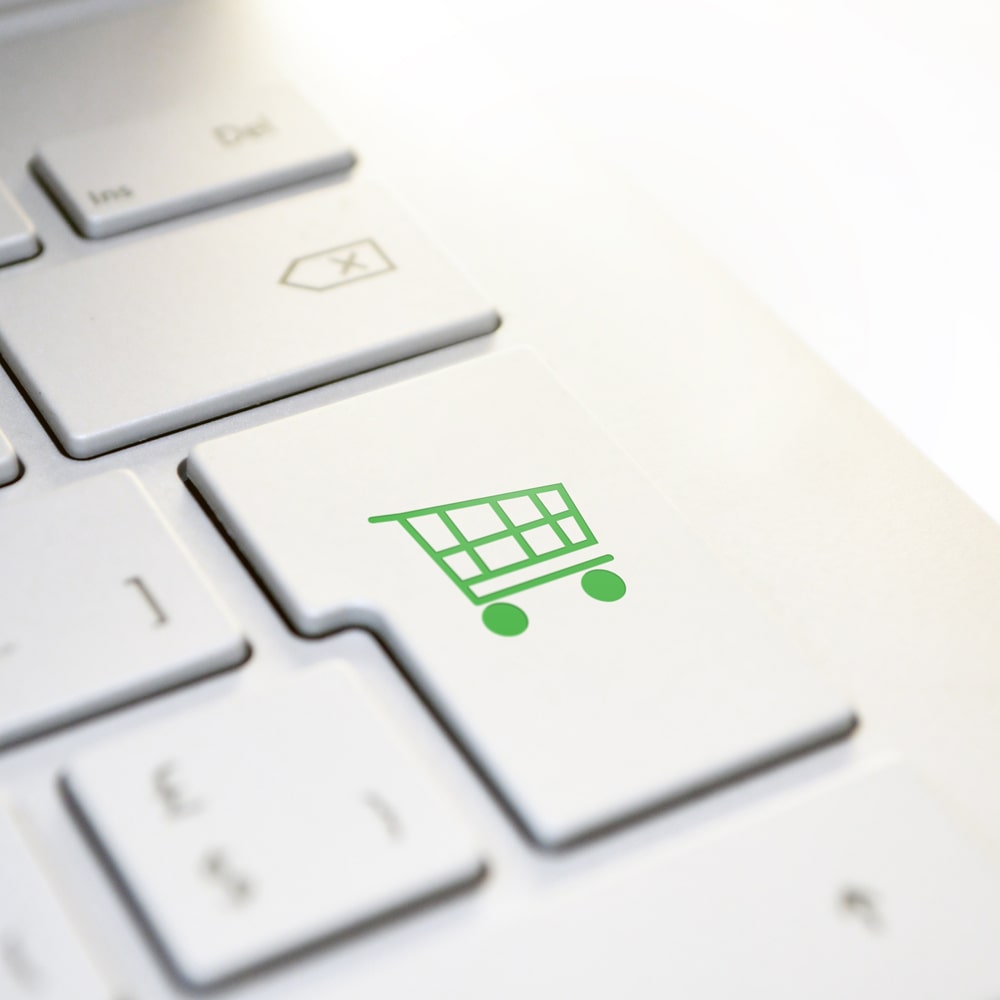 Where to buy good Stevia?
When buying on the internet, there are a lot of sellers on platforms like Ebay or Amazon. Especially with these offers, you should not be blinded by the price. This is because many Stevia products are not subject to approval by the European Food Safety Authority efsa. For consumers, these offers are often very difficult to recognise. Moreover, they often come from the Far East.
Here we give you tips on what to look out for:
Are the exact ingredients listed? Very often they are not declared correctly! Liquid sweeteners always need a preservative. Without it, sweeteners are the ideal breeding ground for germs, bacteria and viruses.
Take a close look at the bottle caps! Why? Do not buy liquid sweeteners if the bottle does not have a tamper-evident cap!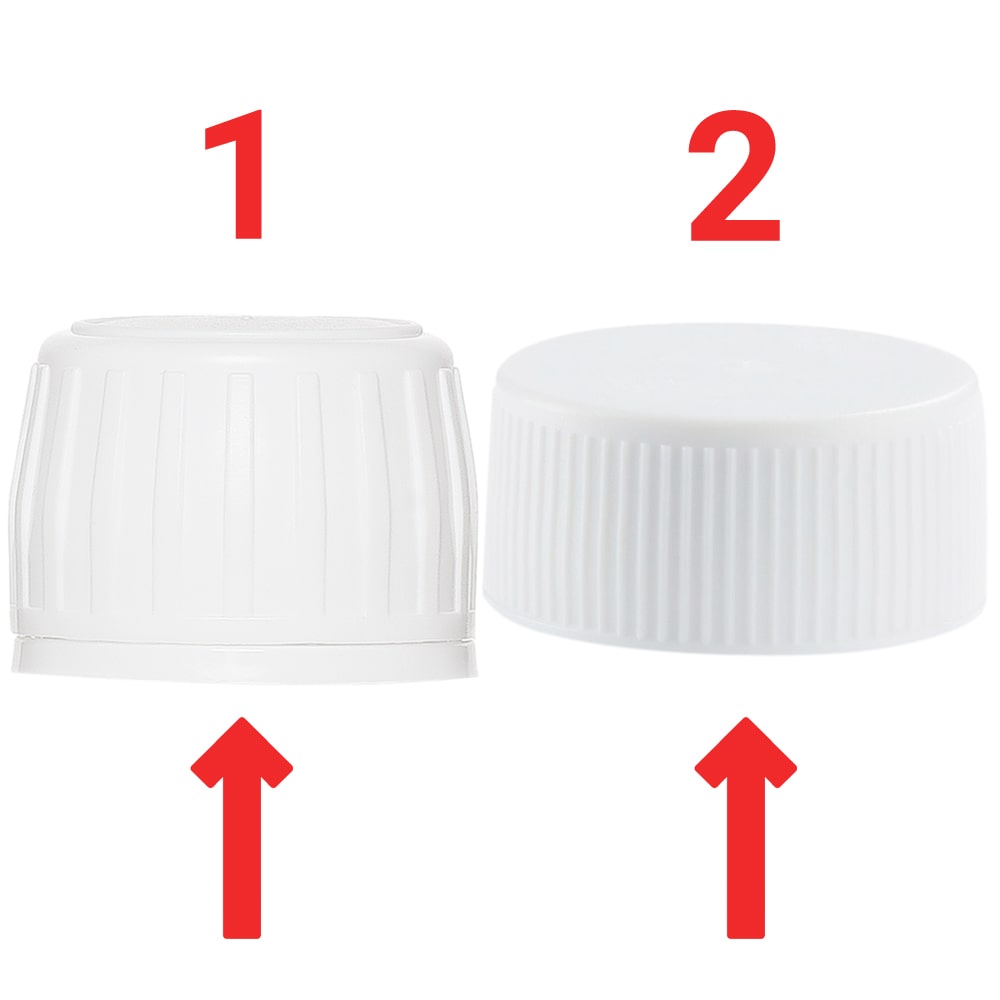 Bottle cap with (1) and without tamper-evident cap (2).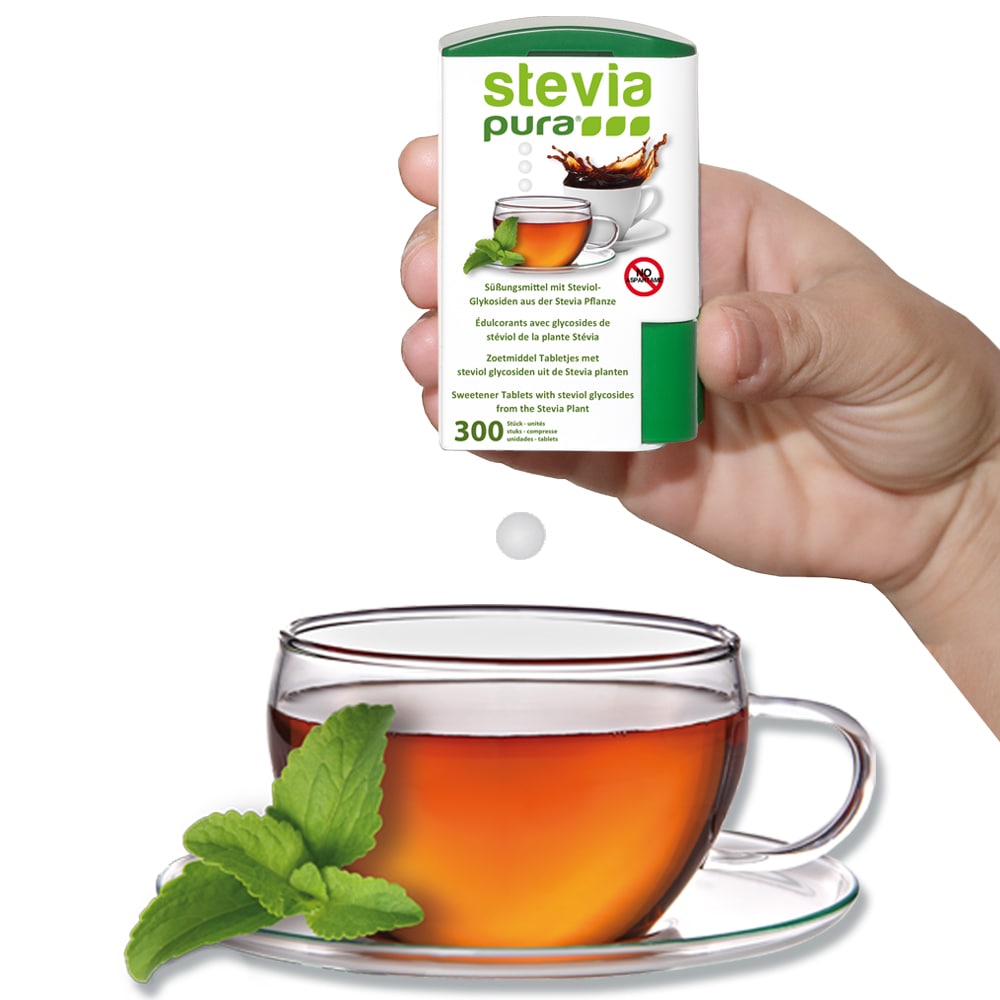 Stevia sweetener tablets without added flavourings.
What is a tamper-evident cap? A tamper-evident closure is often also called a guarantee closure or first-opening guarantee. Most people know it from beverage bottles. The closure rings that have to be torn open before the bottle cap can be turned. It is a breakable plastic ring on the bottle. Only when the bottle cap is turned for the first time does the lower locking ring come off the cap.
Tamper-evident closures are used to indicate the integrity, tampering or breakage of a package.
Reputable suppliers do not offer products without tamper-evident closures. They show you that the products are manufactured according to strict HACCP (Hazard Analysis and Critical Control Points) guidelines and IFS Food Standard, a standard recognised by the GFSI (Global Food Safety Initiative) for auditing food manufacturers.
Stevia Sweetener Tablets | Stevia Tablets | Sweet Tablets
The most important thing to know first: There are no Stevia sweetener tablets that are 100% Stevia. Do not be fooled by such offers. The maximum value is usually between 12% and 25%. For the production of sweetener tablets, you always need so-called carrier and tableting aids. Without these, the production of tablets is not possible.
The most commonly used excipients are: Sorbitol, lactose (milk sugar), carboxymethyl cellulose, isomaltose, erythritol, sodium hydrogen carbonate or dextrose.
Addition of flavours: Stevia tablets are often made with flavours, especially vanilla flavours. The addition can often be an indicator that high-quality Stevia extracts are not used in the production process. These are primarily used to mask the taste, sweetness.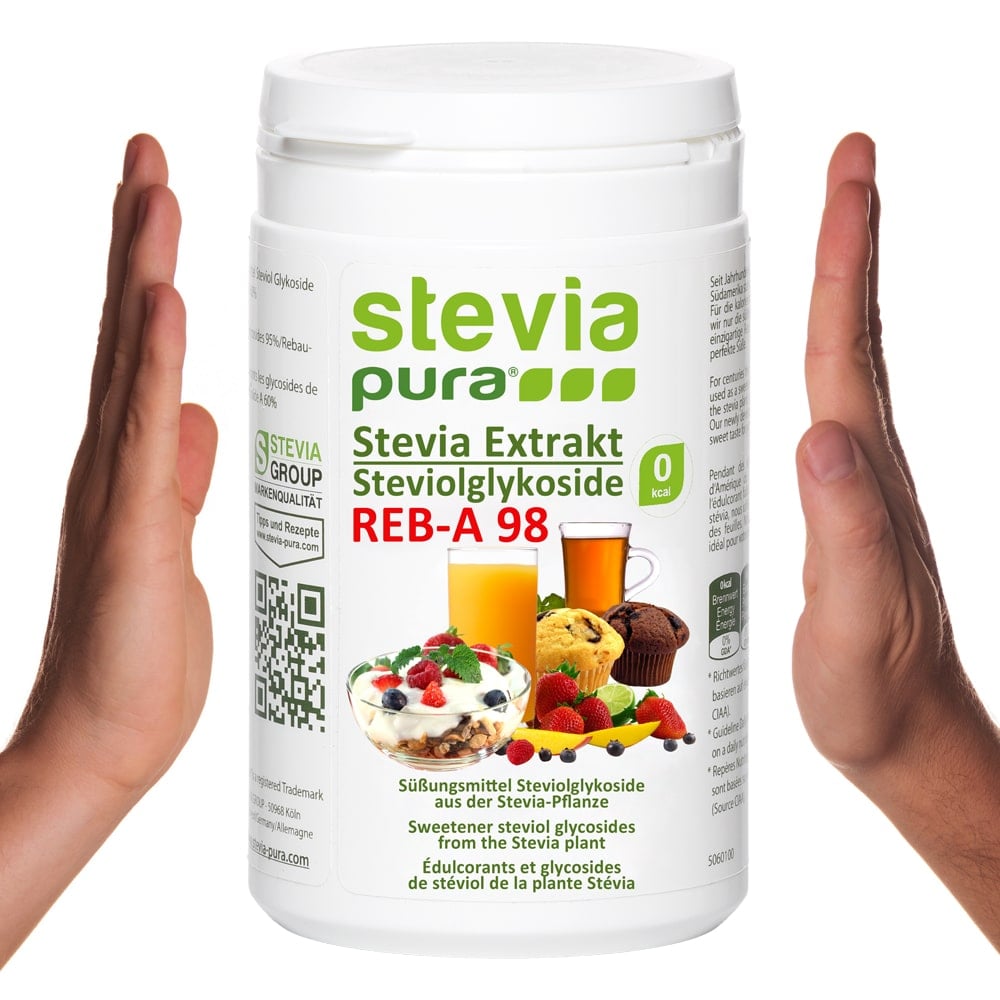 Very high quality Stevia extract Rebaudioside-A 98%.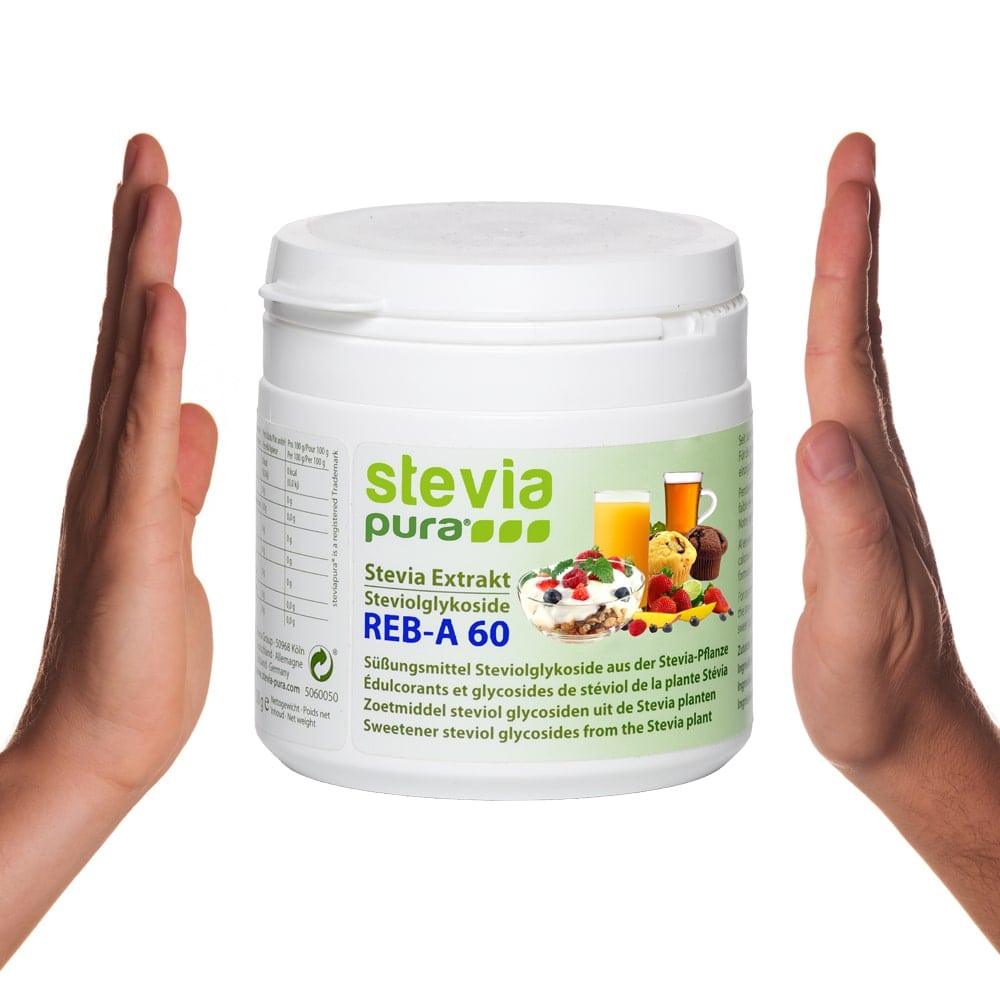 High quality Stevia extract Rebaudioside-A 60%
What is pure Stevia extract?
These are not sold in supermarkets or drugstores. In individual cases, they are available in organic shops. However, this is often only the lowest quality (usually only Rebaudioside-A 40% or even only 25%<7span>). These extracts are often overpriced.
You can find good pure Stevia extracts on the internet. However, you should look carefully at the suppliers. Many of them do not specialise in Stevia extracts and are only interested in making a quick buck, such as media or advertising agencies.
Buy Stevia only from suppliers who specialise in Stevia. Make sure that the exact specification/quality is stated for pure Stevia extracts. This is the only way to compare products. The purity of steviol glycosides must be at least 95%. For the higher quality Stevia extract Rebaudiosid-A, you should only buy qualities of over 60% because of the taste.
Look at the seller's imprint and whether a telephone number is given. So that you can contact the seller directly if you have any questions.
Stevia extract is particularly pure is up to 450 times sweeter than sugar. Therefore, you should always dose this type of Stevia carefully, rather sweetening gradually to avoid making food inedible.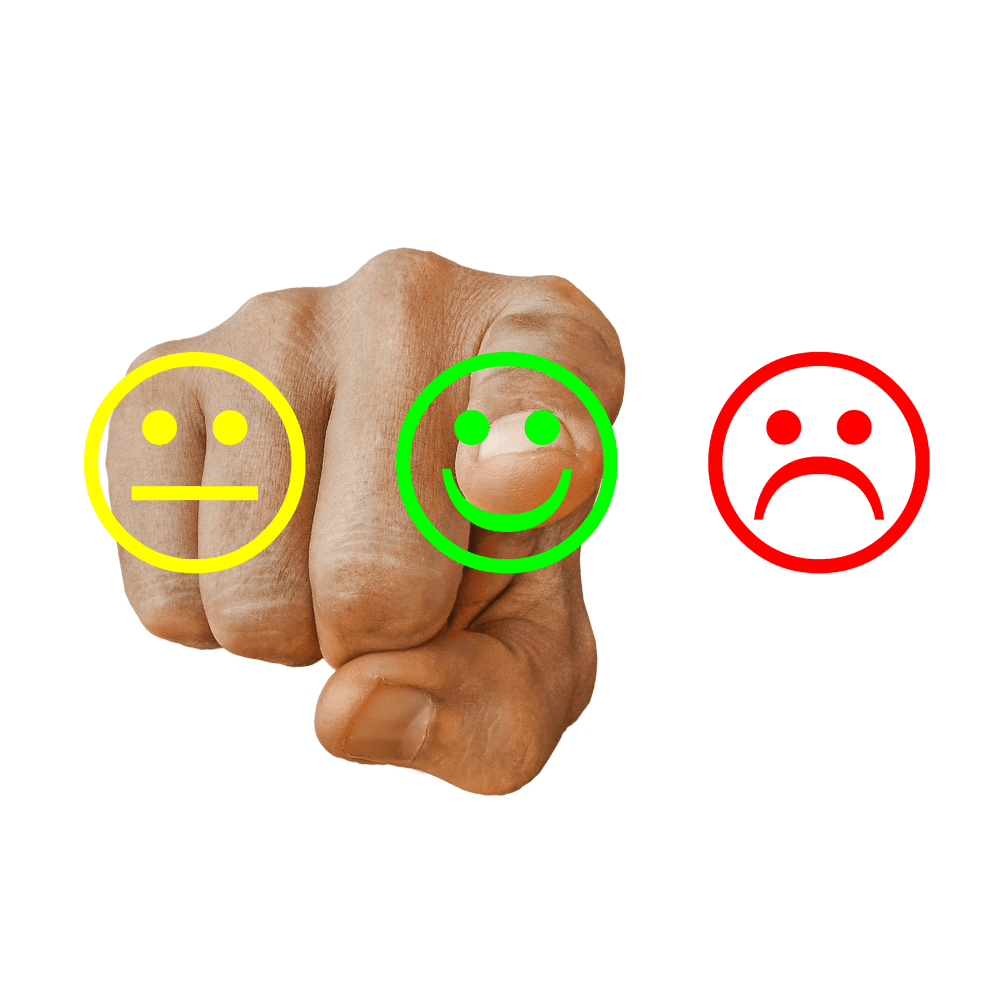 You can recognise good Stevia by these properties.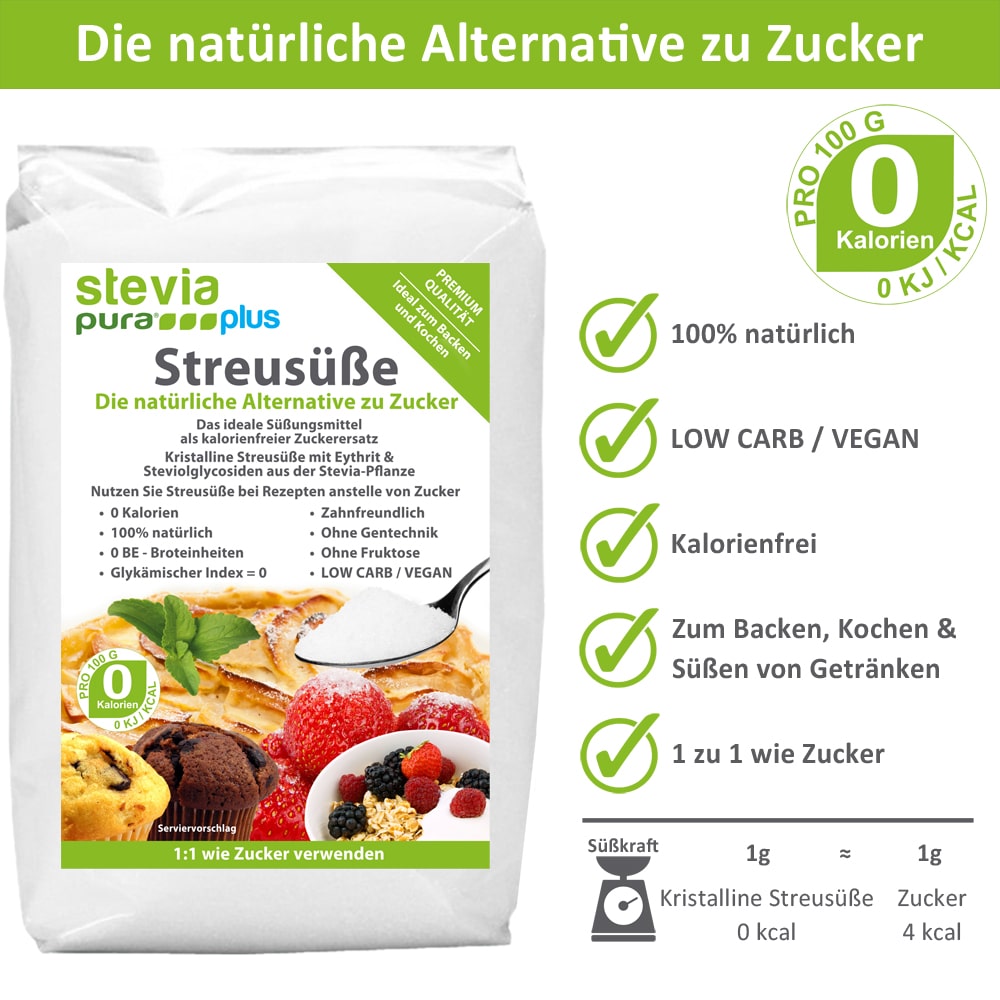 Stevia crystalline spoonable sweetener – The spoonable sweetener without maltodextrin!
What is Stevia granulate?
Stevia granules are the crystalline form of the natural sweetener. It is a mixture of erythritol and Stevia and is also called spoonabe sweetener. It is particularly heat-resistant and for this reason can also be used for cooking or baking. Stevia granules completely replace the sugar in the baking recipe, so it can be used 1:1 as in the original recipe.
Caution: There are also spoonable sweeteners with maltodextrin! These products consist of more than 95% maltodextrin and are cheap in relation to the crystalline spoonable sweetener Stevia. Per 100 grams of maltodextrin there are 95 grams of carbohydrates, which corresponds to about 380 kilocalories (kcal). Look at the fine print of the ingredients list to see which ingredients are used.
Which Stevia product is best?
Which Stevia does not taste bitter?
In Germany, the sweetener blend Stevia consists of the main components steviol glycosides, rebaudioside A and stevioside. A high proportion of stevioside often leads to a bitter aftertaste in the composition. If you want to avoid this, make sure that the product contains an appropriate high percentage of, for example, 95% of rebaudioside-A, which has a very sweet taste.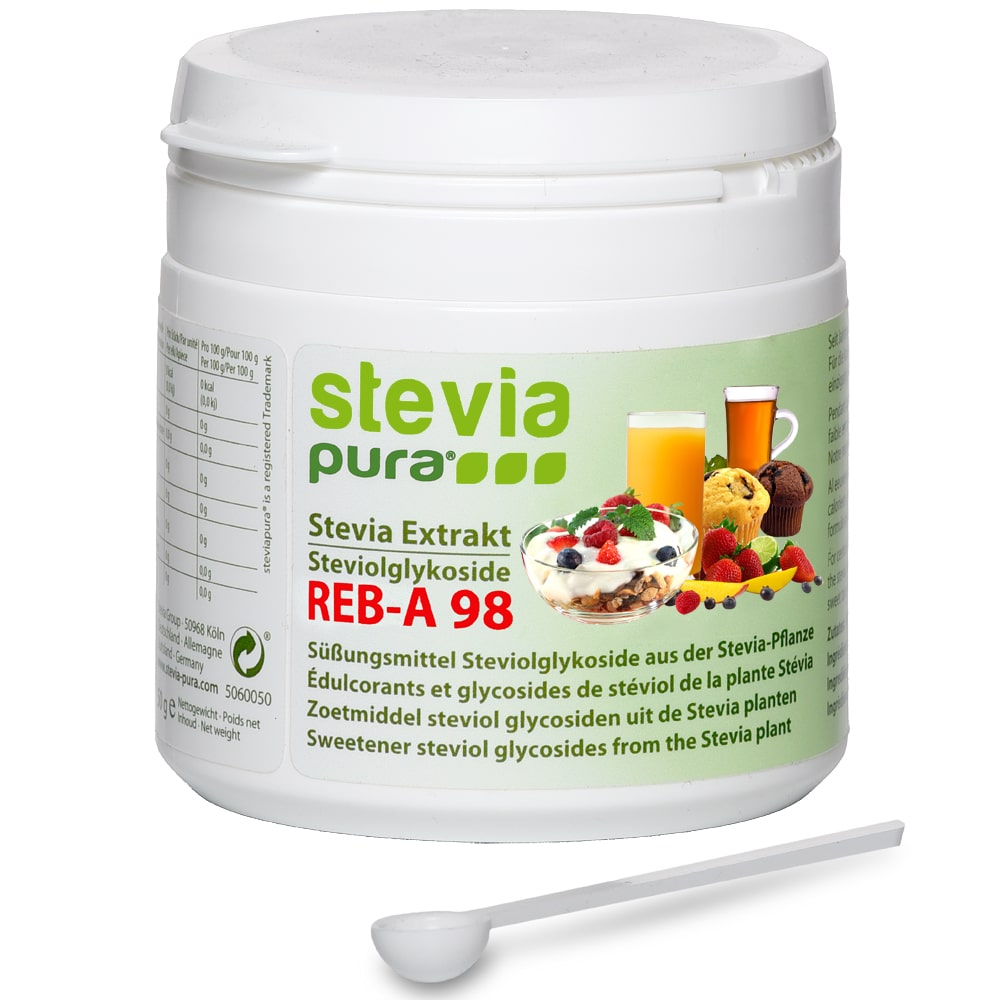 Which Stevia does not taste bitter:
Stevia extract powder Rebaudiosid-A 98%.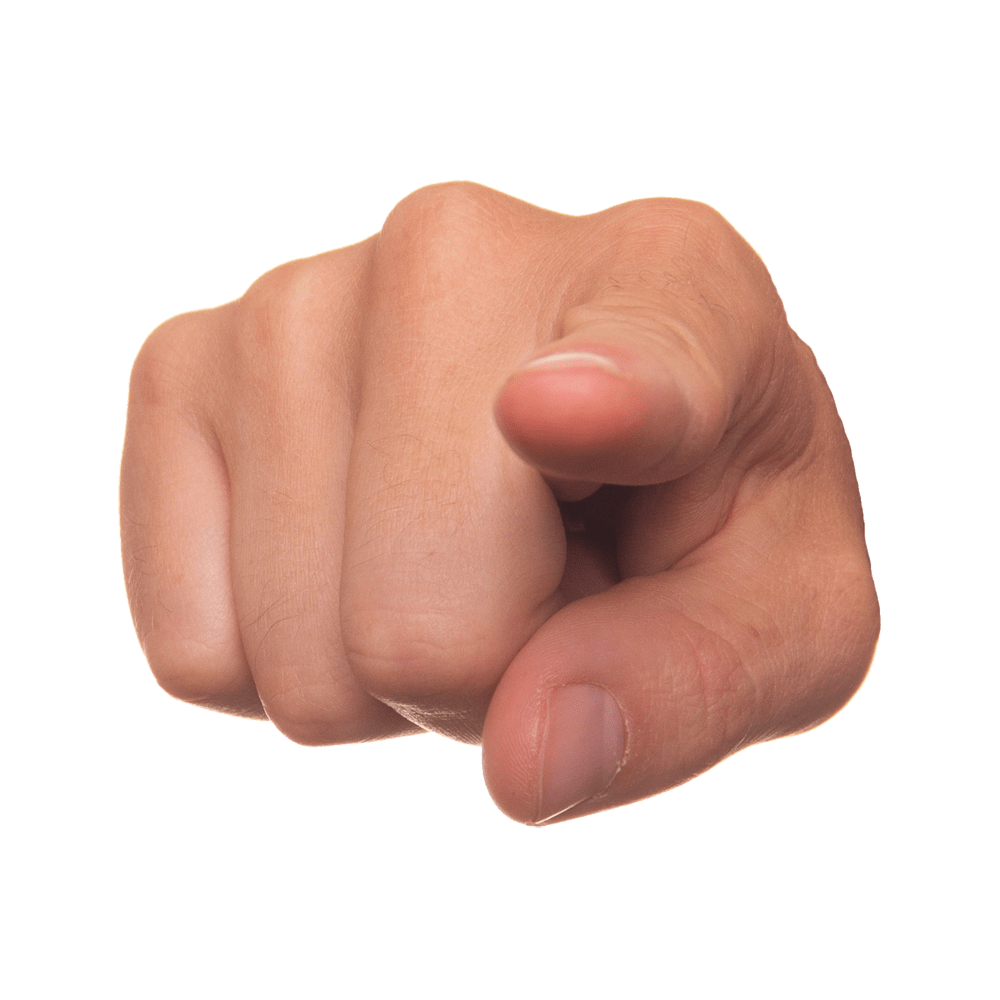 Buying Stevia | Where to buy and what to look out for.
How much Stevia can you eat a day?
To obtain EU approval (efsa), Stevia was thoroughly tested for safety. An ADI value was determined, which is 4 mg of Stevia per kilogram of body weight. The ADI value refers to the amount that is considered safe for health, even if it is sometimes exceeded.
What are the disadvantages of Stevia?
Stevia is not always the solution to all sugar problems. It is worth taking a closer look:
It is especially important to pay attention to the ingredients of the product in question before buying. Some products made with Stevia are supplemented with conventional sugar.
The majority of people find the taste of Stevia rather unpleasant.
Not every form of Stevia is equally heat-resistant and therefore suitable for baking or cooking.
Does the use of Stevia make sense or not?
It is not easy to make a statement about whether Stevia is useful or not. Especially for people who generally use chemical sweeteners (like cyclamate or aspartame), Stevia can be a good alternative.
You would like to try Stevia? You can order it directly online here: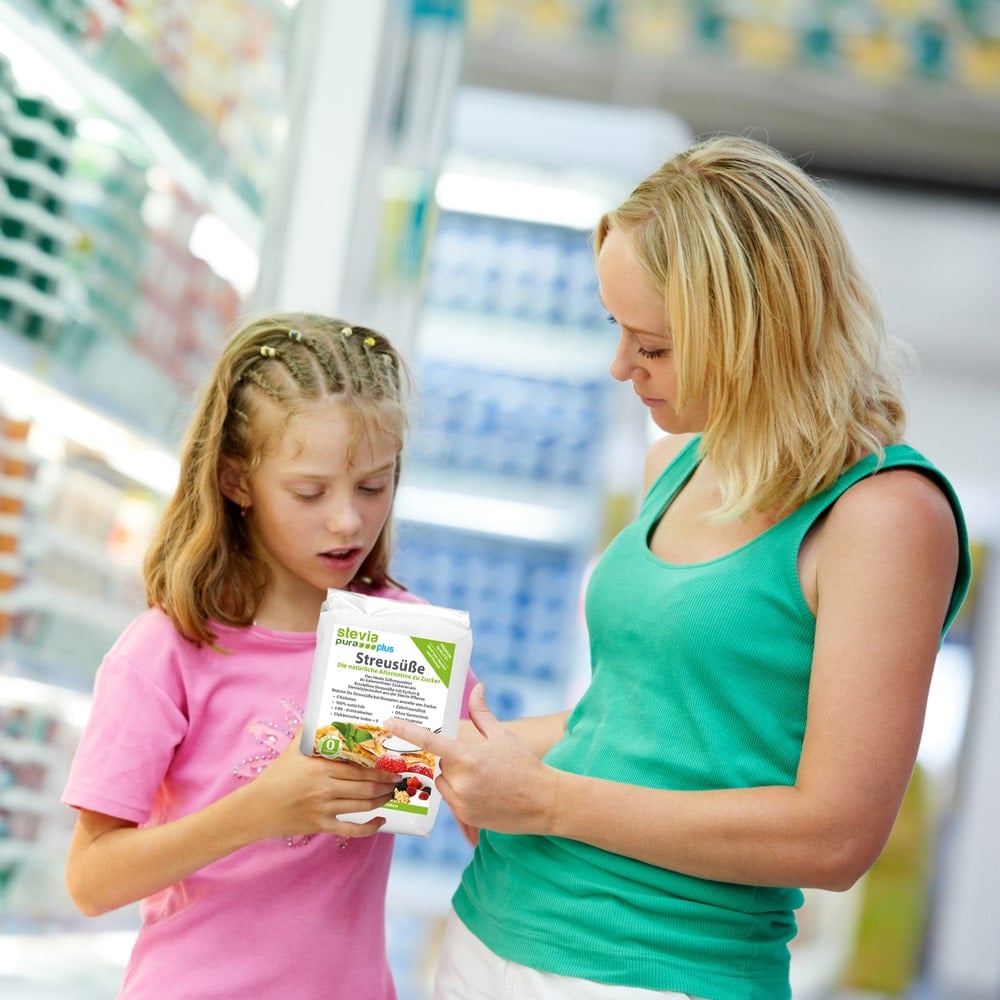 Tips for buying Stevia.