Spoonable Sweeteners | The Differences
What to look for when buying Sugar Alternatives.
Consumers are looking for a sensible substitute for sugar. Many of the sweeteners on offer, especially sugar substitutes with Stevia sweetener have fillers in addition to Stevia. Very often, the spoonable sweetener is offered with maltodextrin, dextrose, but also with synthetic sweeteners such as aspartame or acesulfame-K. Flavourings are also often added to mask the taste.
In addition to the sugar substitute Erythritol and Stevia, there is also Xylitol, which does not come from birch bark, as is often assumed, but is obtained from straw or corncob residues.
Stevia spoonable sweetener with erythritol, on the other hand, is a real natural sugar alternative and just as sweet as household sugar, but without the calories.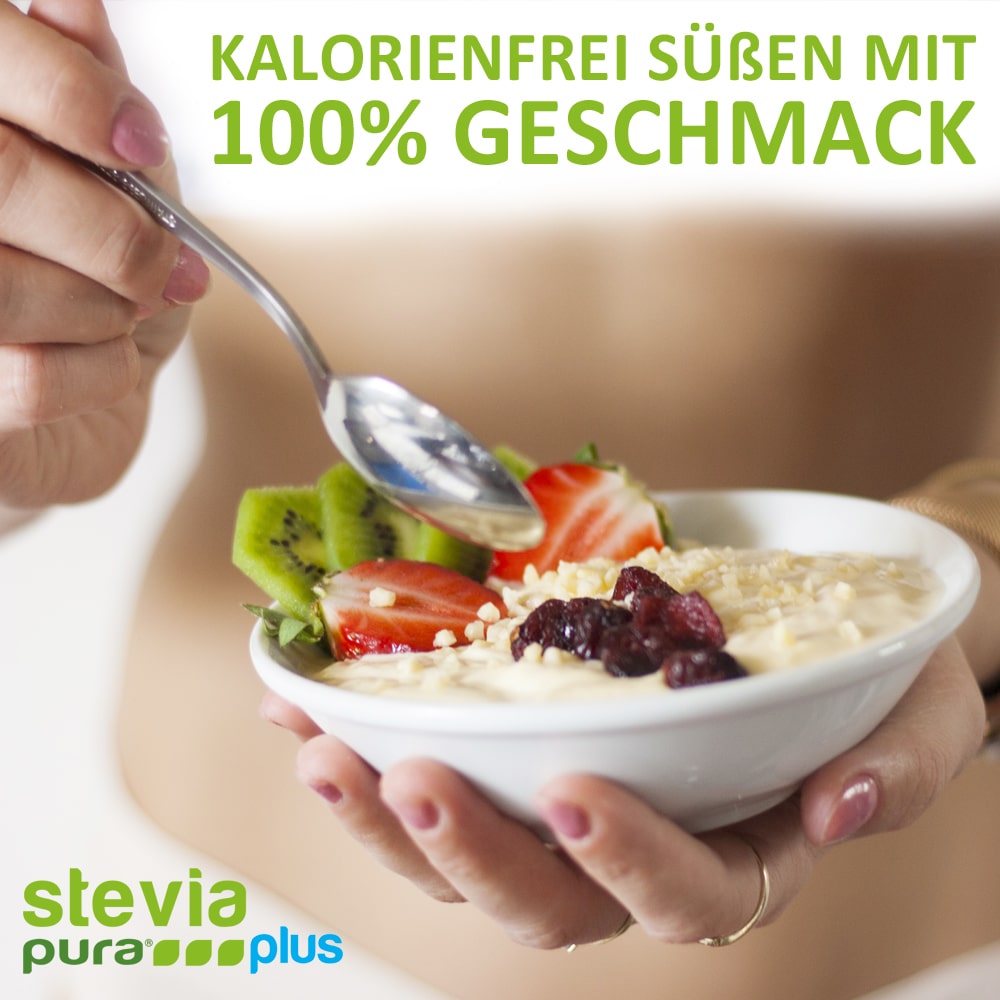 Stevia spoonable Sweetener is the perfect sugar substitute with Erythritol and without calories.
Sweeteners in comparison: Stevia, Erythritol and Xylitol
Stevia
Erythritol
Xylitol
Form
Liquid extract powder tablets
Powder, crystals
Crystals
Production
Extract from Stevia leaves
Sugar alcohol obtained by fermentation of sugar by yeast
Sugar alcohol obtained from corn cobs or bark
Taste
very sweet, can have a bitter aftertaste if too much is used
Like sugar
Like sugar
Further designations
Stevia
Rebaudioside-A
Steviosides honey
leaf sweet herb
steviapura
Erythrit
Erythritol Spoonable
crystal granulated
steviapuraPlus
Crystal Sugar
Xylit
Xylitol
Birch Sugar
Calories
0 kcal/100g
0 kcal/100g
240kcal/100g
Sweetness
200 – 450 times sweeter than sugar
60 – 70 % of the sweetness of sugar
Sweetness is almost identical to sugar
Tolerance
good
from 1g/kg body weight, flatulent/ laxative effect
from 0,5g/kg body weight, flatulent/ laxative effect
Advantages
The powder is produced from the leaves and is suitable for raw food
promotes calcium absorption
promotes calcium absorption
Disadvantages
Fewer recipes known for baking and cooking
Is not suitable or incompatible for animals
Is not suitable or incompatible for animals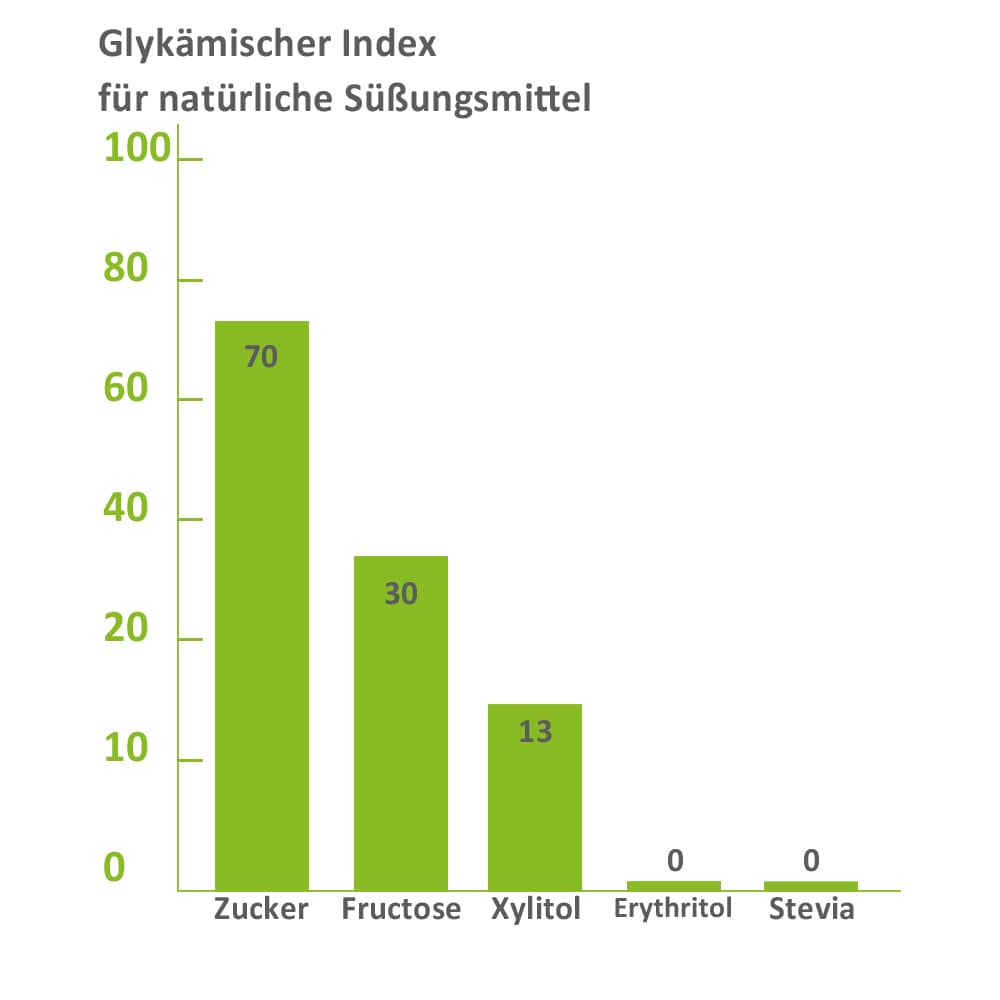 Glycaemic index for natural sweeteners in comparison.
What is Erythritol and what are the advantages of this Sugar Substitute?
Erythritol is made from natural raw materials. It is a calorie-free sugar alternative, tooth-friendly and free of genetic engineering.
For all those who want to give up sugar and excess calories, it is the ideal sweetener to still be able to enjoy sweets. It is especially popular with diabetics, fitness fans and weight loss enthusiasts and is a real alternative to unhealthy household sugar.
The production of Erythritol
Erythritol occurs naturally in some fruits (e.g., pears, watermelons, grapes), mushrooms or fermented foods such as beer, rice wine, soy sauce and cheese. Erythritol is obtained from natural and renewable raw materials, highly starchy plants. As in the case of grape must, wine production and to wine, the starch is processed in large tanks to glucose syrup and fermented to Erythritol.
Without exception, we use raw materials without genetic engineering for our sweeteners.
Is Erythritol natural?
Erythritol occurs naturally in ripe fruits such as pears, melons, grapes as well as in cheese, pistachios and wine. The extraction of Erythritol from these foods is very complex and expensive. For the food industry, erythritol is therefore obtained by fermentation.
Is Erythritol ketogenic?
In the ketogenic diet, carbohydrate intake is reduced so that the body begins to meet its energy needs primarily or exclusively from fat rather than glucose. This type of diet is based on the ketone bodies that give it its name, which serve as substitutes for glucose. In the low-carb or LCHF diet, the ketogenic diet is the strictest sub-form, in which only less than 20 g of carbohydrates are regularly consumed per day.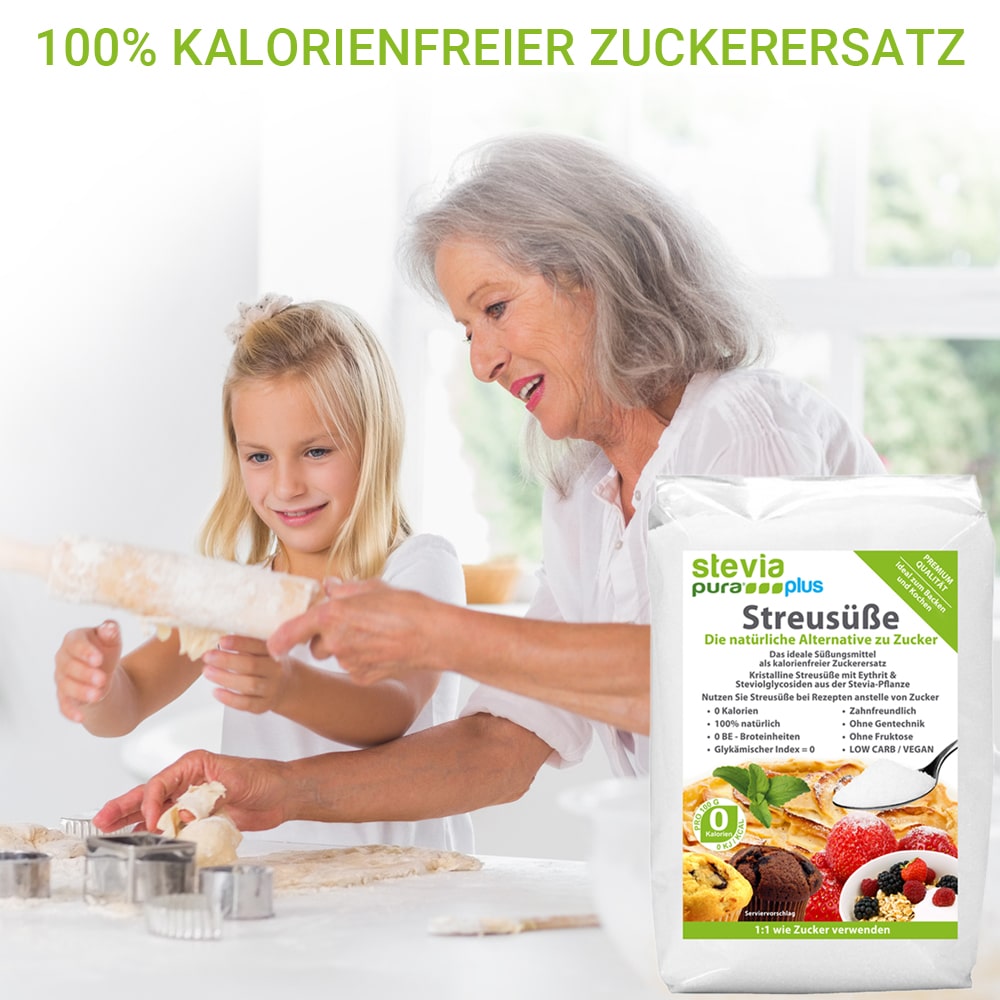 Crystalline spoonable sweetener is easy to use for baking, just like sugar.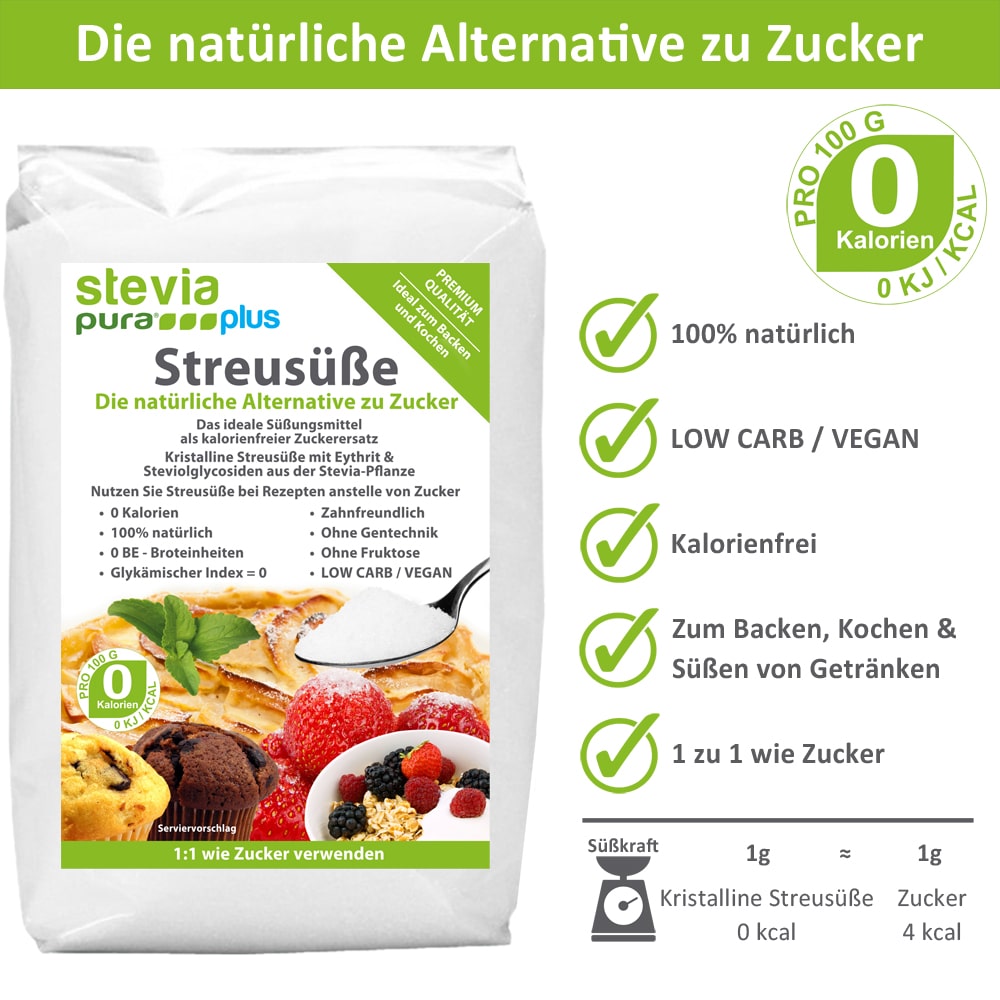 The advantages of the spoonable sweetener sugar substitute.
The advantages of the spoonable sweetener sugar substitute.
Erythritol is particularly suitable for the ketogenic diet. It can be integrated into the diet in many ways. With the spoonable sweetener, the usable carbohydrates can be reduced. Since it has about the same consistency as sugar, it is an excellent sugar substitute.
Conclusion
If you want to buy sugar substitutes, you should take a close look at the list of ingredients.